Hey lovely people hey.
We hope you missed us, 'cos we're back with a smashing Season 2 that'll unfold in the next few weeks.
The four featured artists are: Lymbyc Systym, Caroline, Hanging Up the Moon and Lunarin.
We're really stoked about it, and we know you will be once you watch them. Expect the same great art direction by our video team, Birdmandog, and the precise audio production of Snakeweed Studios' stalwart Leonard Soosay, that characterized our groundbreaking Season 1. Every video we produce is a lesson for us, and we are continually learning to raise the standards higher and higher. 
Now for the juicy part. Check out Lymbyc Systym's interview and performances of 'Downtime' and 'Eyes Forward' below, and look out for the trippy visuals courtesy of visual maestro Jun.
Interview Transcript:
How is Lymbyc Systym's writing process like?
Jared: We wrote everything from our experiences. We have that keenly in mind with all our music. I think one of the main differences we have from other bands is that we kind of have a really strong half-melodic, half-percussive element, and all the stuff we write have a really beat-driven thing in mind. We treat the beats as melodies. We try to think of the drum parts and the programming parts as equal counterweights to one another.
Michael: I think part of having a band, or being a musician, is about being really confident about what you're doing, whether it's good or bad. And so we've always trusted in our ability to compose and record music. I don't think I've ever felt constrained.
So you guys are brothers, right? How does that affect the process?
Jared: We've played music together for so long, it's like we immediately get each other's ideas.
Michael: There's a lot of liberty with being just two people, especially as brothers, and just knowing how to work together. I think there's really a lot of freedom in that.
Jared: Our process when we record starts with really just an idea from either Mike or myself, and then kind of just sharing that back-and-forth. So when we're writing, it's just this constant back-and-forth exchange, until we have a really solid song, and then we sort of go at it together, and fine-tune all the details and get picky about what we like - or don't like - about each other's parts. But the beginning of every song is just that back-and-forth exchange.
Does the band consciously try to explore new sounds?
Michael: To me, it's all really nice when bands like Love have an ongoing evolution, where each record is a little different, but it's still coming from the individual members' creative well.
Jared: I'd rather have a band that makes a shitty third or fourth album and have it be different, than to make the same album over and over again. It's important to keep trying something new.
Michael: Yeah, to always be forward.
Tell us more about the two songs you performed, 'Eyes Forward' and 'Downtime'.
Michael: So both of those are new songs that aren't released yet, and will be on our upcoming album, that will be released sometime in the near future - we don't really know when yet. 
Thanks guys! We really enjoyed your performance. We're looking forward to more stuff from Lymbyc Systym.
We hope you love this, because we are head over heels in love with her. Charming, witty, and an amazing songwriter. We present to you Rachael Yamagata.
Stay tuned for the transcript of the full interview.
Snakeweed Sessions #4 sees the crazily charming Rachael Yamagata stumble upon our special lion dance welcome. Don't worry, we didn't scare her away. Instead, she stayed, she sang, and she stole our hearts. We're sure you'll feel the same.

Rachael performs the heart-wrenching 'Elephants' and a new, unreleased song, "You Won't Let Me." Snakeweed Sessions is stoked to present to you one of the very first recordings of Rachael's new track.

Look out for these two performances on Friday, 13th May!
As promised, here it is: MONSTER CAT performing their songs 'Mannequins' and 'These Hands'. 
We really hope you enjoy this one - especially when the insinuation of dolls and plastic people gives an interesting edge to this unique musique critique.
Watch out for the incoming transcript of the exclusive interview with the band.
Hello, lovely people.
In our third number we present to you MONSTER CAT. Now these guys will make you squirm in your seats. Or bed.
Watch your screens for the full videos, coming your way on 6th May.
Thanks for waiting, guys. Inch Chua's videos 'Have It Your Way' and 'Hurt' are finally ready for your viewing pleasure. We're really proud of this one. Perfect for a breezy Saturday evening.
Here's the full transcript of the interview we had with Inch. She talks about what both songs mean to her, and also what she thinks her strong presence on YouTube has done for her music. Enjoy!
Tell us something about the first song you played, 'Have It Your Way'. What was going through your mind as you were writing it?
It was actually a pretty childish thought (laughs). The whole song started with me wanting to take my bike license. But I wasn't allowed! So I was really, really upset. But at the end of the day, I sort of surrendered. and it came to a point where I said, You know what? At some point it's not going to be my will at all. It's probably some higher calling. And everything else pretty much followed through. It's about surrendering everything that I have.
What about the second song that you played, 'Hurt'? Is there something you'd like to share about it?  
'Hurt' was really one of those songs you'd write in a minute or two. It started with me feeling recently that I've sort of lost one of my best friends. 'Hurt' is my daydream of reconciliation. It's was really difficult, because this friend of mine and I have been friends for the longest time, and this isn't our first fight or anything like that, but I think the friendship sort of came to a point of conclusion. So I guess this was like the funeral song for our friendship. It's a bit of a sad song.
Was it a conscious decision to go into a more solitary writing process?
I guess I'd say that it was a semi-conscious decision. I generally love and enjoy writing. I've never really written for a particular reason other than the fact that I find it as a cathartic process, so everything else was a sort of natural progression to where it is.
With regards to that, were you writing separately while you were still with your previous band?
Yeah, generally when it came to Allura's stuff or for group situations, I prefer to write with and around them when it comes to the lyrics, so that everyone agrees with it, and to add any other contributions to it and stuff like that. But when it came to my own personal things, it was literally like a page from my diary. It's more personal in that sense, which is great - I wouldn't mind sharing or working on it with other people, but maybe at that point it's a bit more self-indulgent…(laughs)
What would you say is the main difference between writing by yourself and writing with a group of people?
It's a big difference, I guess. It gets a little lonely writing by yourself sometimes (laughs). I mean, I really enjoyed writing by myself initially, but at some point, you kinda feel like you miss the interaction with other people and how I like to bounce of ideas. But the downside of working with a group sometimes is that you can get a lot of conflicting directions, and sometimes it gets a bit confusing as well. So… there's a lot of pros and cons to it, and I definitely like doing both, but I would probably get bored if I stick to just one for too long.
A couple of Singaporean bands have gone overseas to play for festivals, with you included as well. Do you see this as a sign that the scene here is improving?
Yeah, I get really happy when a lot of local bands get to go out and try to do as much as they can, because I think that although Singapore's great, it sometimes feel that we need to prove ourselves to people here. It gets very difficult to a point where it seems easier to receive acceptance from somewhere else than here. And I think in general that it sort of seems in Singapore we're wound up in this little box where we don't really know what goes beyond our own waters, so it's great that bands get to go out, experience it, and I definitely feel it really does show that I think in general the musicians here are maturing into that stage - which is a good thing.
What do you think is a lesson that you've learnt from playing overseas to a different crowd?
Wow, there's so many things I've learnt from going overseas! I've realized what a gigging culture really is, as in the full extent of it - what it means to play in a show, what it means to go out and lug your stuff and what it really means to get a response from the audience as well. And it's really interesting because one of the things that I've learnt is that it isn't that far of a shot for us, really. Like, in terms of creativity, in terms of how innovative we are as musicians - we're just on the same level as a lot of other musicians overseas. It's kinda interesting because it demystified a lot of my thoughts and preconceptions that I had before I went overseas - like, probably international standards were here (hand up high), and I am, like, here (hand held low), but it didn't seem that way after awhile. So it was kinda interesting to be able to finally get a realistic view on how the global stage really is. And yeah, Singaporeans have a chance. A good chance.
How has a strong presence on YouTube helped you share your music with people?
I think YouTube's a really good platform. At the same time, a lot of musicians have been fully utilizing it and I think it's one of the platforms that all musicians can use. I mean back in the past, we all had to send out demos and stuff like that, but now it's as easy as giving out a YouTube url. And I think YouTube's really good, but there's a lot of problems with it as well - you can get very dependent on the YouTube channel, which is what I kinda feel. It should work hand-in-hand. YouTube should help you in what you do by creating that extra platform and presence online, and at the same time you should continue to do as much live shows as you can to sort of have this whole 'cycle of life'.
Would you say that your album 'Wallflower' was the personal soundtrack of you struggling and growing into who you wanted to be?
I guess so. I wrote 'Wallflower' very recently, in fact, about a year ago. I guess I would say I was a 'problem kid', so growing up wasn't easy. I was just reflecting on how it was. Looking back, my outlook seems relatively postive, and I kinda like the way I've turned out. I didn't do too bad. My momma taught me good.
Thank you for being with us, Inch!
Thank you!
This time, we present you with one of our very own.
Tune in this 29 April for Inch Chua's full videos.
Villagers - Becoming a Jackal
Villagers - The Pact (I'll Be Your Fever)
We've got a nice little transcript here of the full interview with Conor, for you guys out there wishing you could just dissolve into those bright blue eyes. We chatted with Conor when he dropped by Snakeweed Studios for the sessions, a few hours before his show at the Esplanade, Singapore. Read and enjoy:
So how's it like being in Singapore?
It's good here. Well, we just got here yesterday. We did a little trip to Chinatown - felt like complete tourists. It's been raining, too, so it feels kinda like Ireland again. It's exciting.
Coming from a background where you've mostly played in bands, what's it like to be touring solo this time?
It's different - you can flesh the songs out, and bring out the more intimate aspects of the songs when you're doing a more stripped-down kind of show. I'll be playing with my friend Cormac, who plays on piano, and he's a genius. I'm in good hands with him, in terms of musicianship.
Will you guys be trying anything new today?
Yeah, we're gonna try a couple new things today. We're very excited - it's our first show with a grand piano. We're totally music nerds, so we're excited about that.
Your songwriting has been described as 'dreadful and dramatic'. What was the idea behind the new album?
Dreadful? (laughs) The album is called 'Becoming a Jackal'. Before I wrote it I had a drawing, which was an image of a man staring at his own reflection, and that reflection was a canine creature such as a Jackal. And I was trying to make something to do with the more scavenging aspects of human beings. It grew into an album, and all the songs started revolving around that idea of people being animals and with animalistic things. There was a lot of death in there as well. I didn't mean there to be, but there is.
Talking about the drawing of the jackal, how much of the songs are drawn from your own personality, and how much of it is drawn from elsewhere?
I think whenever you write there's gonna be a huge part of you in there, but I also enjoy trying to inhabit other people through writing, using tricks of character play and stuff. And often, you find out a bit more of yourself through the writing. You have to keep a balance so it doesn't become therapy. That's not the best way to go, but there can be a little bit of that.
What's next for you? Any plans to explore music as a solo performer?
Yeah, the way Villagers is, we like to keep it all mixed up and I like the fact that we can play as a full five-piece band and sometimes I just play on my own, and sometimes I play as a two-piece. We wanna keep it kind of loose and make sure it doesn't get stuck in any sort of genre or type of music that you can identify. I want to keep it changing. I guess as you grow as a person, your art should grow as well. 
So there's more in the works?
Yeah, I'm always writing all the time. But I'm kind of slow and obsessive - I'll have different versions of the same song.  
Maybe you could write a song about Chinatown.
Yeah, I think everything is going to make its way in. All the travels are going to make its way into these songs.
Do you have any advice for musicians intending to plunge into music full-time?
I think a huge part of it is just dedication. It's not very 'rock 'n' roll' to say, but it's hard work. It's discipline. I think writing should be a thing you dedicate a huge part of your life to and if you don't, it's gonna be kind of a throwaway. So unless you're going to be totally obsessed with it, don't even bother.
Thanks for your time, Conor!
Thank you, cheers!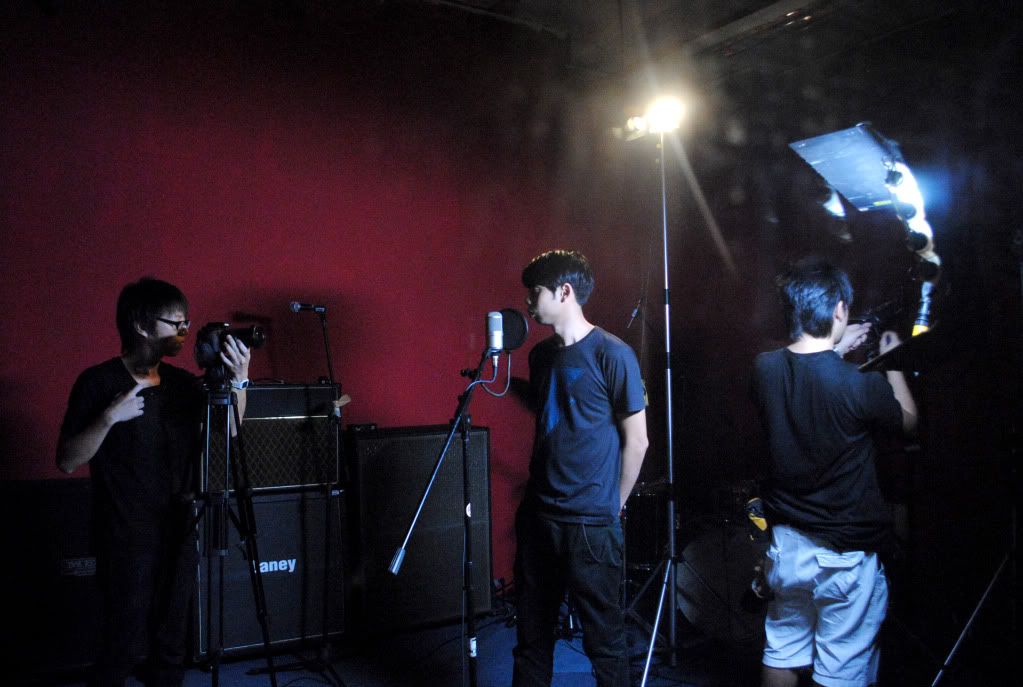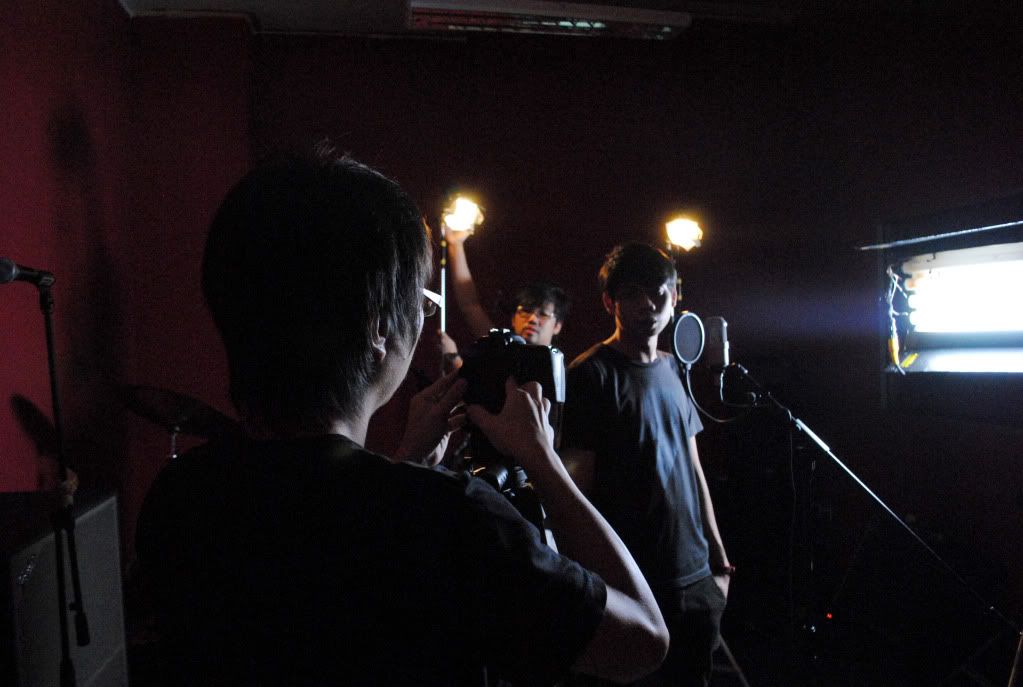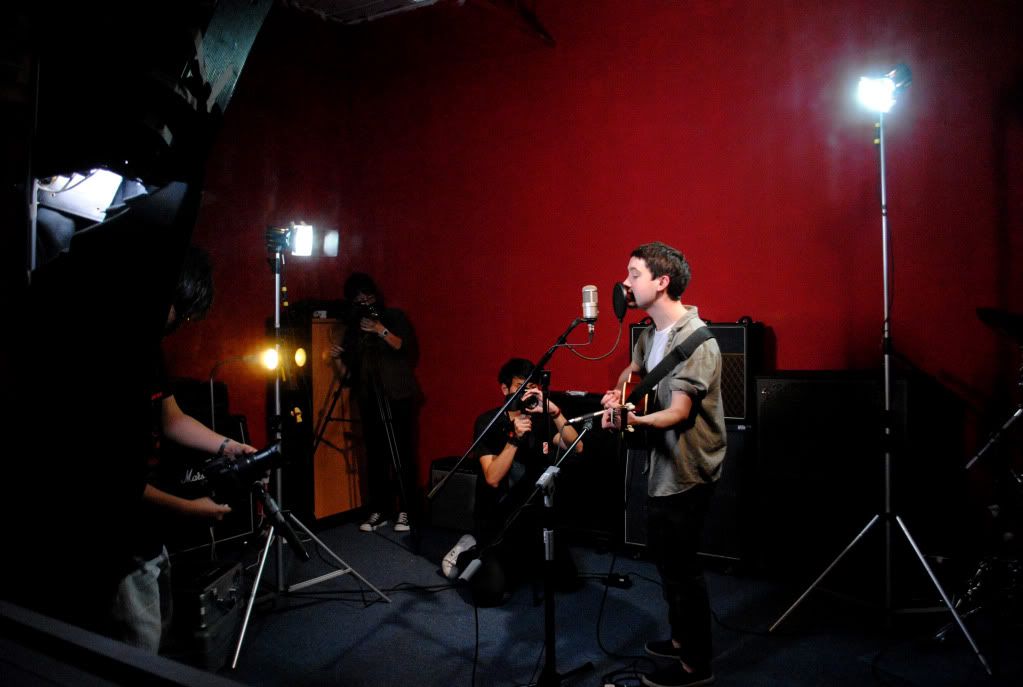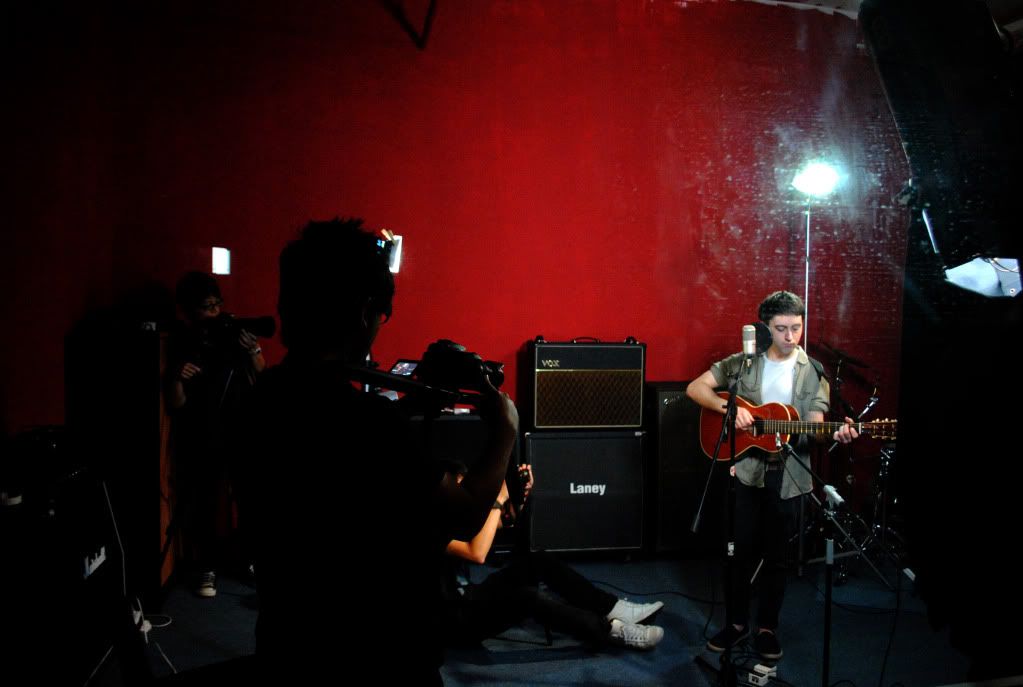 2 MORE DAYS.
We tease you. We are naughty.
Coming your way on 22 April.